Selected paintings 2007 - present.
---
---
---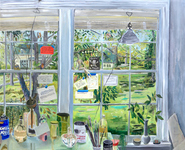 (2014) Crazy Eyes
Observational paintings about sense of place. 2013-2014
---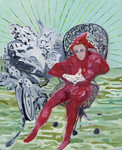 (2013-2014) Le Rayon Vert
Le Rayon Vert (The Green Ray). The Greeen Ray is an optical phenomena dependent on atmospheric condition that occurs as the sun sets. It's the last ray as the sun recedes over the earth's horizon. Jules Verne used it as a plot device. Eric Roehmer used Jules Verne's book as a plot device. Applying the narrative structure and characteristics of French New Wave Film to the current paintings, the body of work as a whole can be seen as a series of jump cuts dealing with existential themes and the absurdity of human existence.


---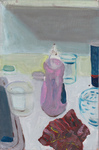 (2013-) The Kitchen Paintings
In the event I became a hardcore minimalist with few worldly possessions, I knew I would always have the comfort of a kitchen with readymade prosaic still lifes marking the passage of time. In January of 2013, I set up a cigar box studio in the kitchen and proceeded to document wayfaring objects crossing its terrain. (Ongoing)
---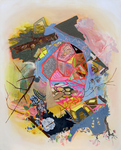 (2013) Shell Game
In Shell Game, I revisit my relationship with abstraction by incorporating invented flora, patterns lifted from family heirlooms, and carefully constructed layers that shift slightly in color when viewed from different angles. Before studio hours, I had a meditation practice. During studio hours, I listened to mashups, mostly Girl Talk, and Vol. 1 of Switched On The Cool Sound of TV Advertising, on repeat. In between, I walked the dog and did housework; saw a movie or read a book; took a motorcycle ride and did some yoga or ran. There were a few storms. Some trees went down. On and on.
---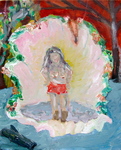 (2010-2012) Suitcase Paintings
Small paintings I did during the transitional period after moving across the country a second time. They explore universal themes of memory, passage, loss and perseverance, while remaining rooted in commonplace scenes and familial artifacts.
---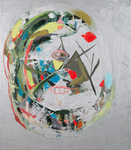 (2011) My Work Here is Just Beginning
After moving from the west coast to Nashville, I was awarded a year-long studio residency in a space consisting of three white-cubed (rectangled), gutted train cars. During this time the language shifted back and forth between figurative and abstraction. Eventually the difference collapsed, but not without a significant impact.
---
---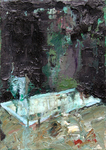 (2008-2011) Pools and Flowers
An abandoned pool behind my childhood home in the South became the touchstone for a body of work about loss, passage, memory, and perseverance. Meanwhile, as I was leaving my home California, I purchased flowers as an act of love and gratitude, and painted arrangements inspired by floral designs found in vintage garden club calendars.


---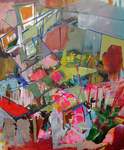 (2006-2009) I forget now what all this is about
Using the visual language of abstraction, hard-edge to expressionistic, Mary Addison Hackett employs a combination of drips and other random marks combined with deliberate brushwork to highlight her interest in the dichotomy of control and the lack of control. Within the abstract, Hackett sees the "intrinsic inability to illustrate, and the ensuing challenge this presents" to both painter and viewer. Hackett's objective in painting is to build some kind of meaning from the lawless palette of colors and forms within the medium. Out of the chaos of materials emerge traces of information, partially obscured vocabulary and half-hidden responses to the artist's day-to-day existence. -Kristi Engle
Essay on painting and abstraction, drawing and documentation.
---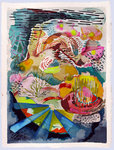 Works on Paper (ongoing)
Selected works on paper (recent).